As we countdown to the launch of our phase 2 expansion in February, we wanted to reflect on our Square Works journey so far.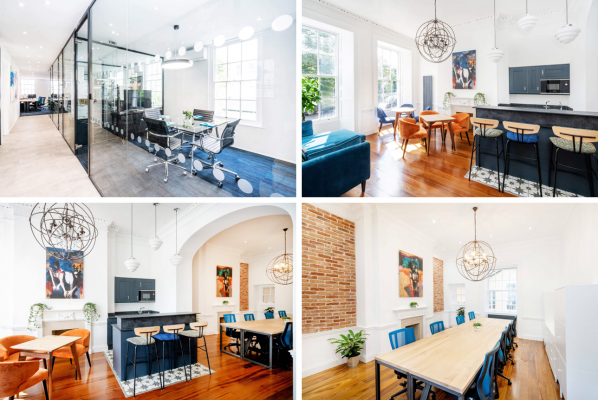 Opening
Since our initial opening we have cemented our place as the luxury option in the Bristol co-working scene, the high-end perks included in membership went down a treat in phase one. Square Works is thriving already; we currently boast a network of over 600 residents and have hosted 230 events for the creative industries in the last year alone. Our initial opening in June was received with an exceptional response. Due to immediately high occupancy and increasing demand, we began planning our second phase. We have created a beautiful space for creatives to grow their businesses; however the building hasn't always looked like this….

Why we chose this building:
Square Works is set in a beautiful Georgian Grade II listed building, between the Berkeley Square Hotel and The Berkeley Suites. After being leased out long term, the building needed some love and attention, which gave us our opportunity to expand our community with Square Works. Our goal was to breathe life back into this once wonderful building; preserving all of its charm and beauty but transforming it with a modern twist. We wanted to turn it from corporate space into a community. Here are some images of the space in its previous life; it's fair to say its almost unrecognisable thanks to the help of all our team!
Ideas behind the space:
Our senior group buyer Kessie Hodges explains that she was looking for a Deco style with a modern twist, drawing on 20s style and the golden era of grand hotels. Mixing masculine colours with bright jewels and flat matt finished walls with the lush rich texture of plush velvet & devore finished fabrics. The furniture is geometric with rounded corners and soft lines. Deco always has an air of luxury and elegance, the balance is to keep an element of homely feel and practical design. We knew this would work really well in the Georgian building; she mixed in some items with rusted and distressed brass, giving a slightly more industrial feel. The juxtaposition of the high end glass chandelier with brass rings brings the feel down to earth while still keeping a high quality finish and an aspiration air.
Suppliers
As a company we value community and wanted to ensure this was reflected in every step of the design process. Therefore, when designing and creating Square Works, we wanted where possible to support local and small businesses. We have formed partnerships with many great names in Bristol and the surrounding area and would like to thank; Konk in Bath (who are currently up for awards and have exhibited at London Design Festival) for creating all of our furniture, desks and woodwork, Jim Starr for the incredible and unique artwork commissioned especially for us and screen printing in our meeting rooms, Bristol Upholstery, Ablectrics on Gloucester Road and the Light People for the lights in our space.
Phase 2
Having outgrown our existing space and feeling as though we still have a lot more to show you, we are now adding the finishing touches to our phase 2 expansion. The second phase will add a further three floors our gorgeous Grade II listed townhouse; with meticulously renovated Georgian offices and contemporary glass offices situated in the modern extension. The opening will include new private offices, meeting rooms and break out spaces, designated conference space, and a stunning full-height glass atrium. The additional three storeys will provide room for our community to expand and grow additional facilities, and more space for our bustling programme of in-house workshops and wellbeing events.
Here are some photos of the site before it is completely re imagined into an extension of our existing space. We can't wait to share what we have been working on with you, keep your eyes peeled for more information on the upcoming launch!