Shared office spaces and hot-desking areas have seen a boom in Bristol over the past few years. With all of the different options come some difficult decisions.
How do you know which workspace will be the best fit for you or your company? Which are the best perks to make your office space that bit more special? Will you be with like-minded people?
To help you out, we've put together a list of some of Bristol's best shared workspaces so that you can find the perfect office for you to get the best out of your work week.
Starting off with our very own Square Works - this unique space in the heart of Clifton has plenty to offer. Part of The Square (Bristol's premier private members' club for creatives), these luxury serviced offices and spaces provide a perfect backdrop for any professional in the city.
Where: 17-18 Berkeley Square, Clifton, Bristol, BS8 1HB
Which spaces are available: private offices, meeting rooms, hot-desking, hot-officing, resident desks, conference/presentation room and event space.
Perks: restaurant service to your desk, Prosecco Thursdays, members' lounge, 24 hour reception support and exclusive discounts with local businesses.
Contact: https://squareworksbristol.com/contact/
Origin is a members' workspace with all the modern bells and whistles. Built to provide a sleek and comfortable space, there are plenty of different packages and options for businesses – no matter what the size!
Where: 40 Berkeley Square, Bristol, BS8 1HP
Which spaces are available: private offices, hot desking, lounge, dedicated desks, meeting rooms and event space.
Perks: wellness activities, onsite gym, weekly members' treats and local discounts.
Contact: https://originworkspace.co.uk/contact/
In Bristol's centre of culture and creativity, Hamilton House is a great space for small, independent businesses in Stokes Croft. From offices and meeting rooms to performance and gallery spaces, there are a huge variety of workspaces and events going on all year round!
Where: 80 Stokes Croft, Bristol, BS1 3QY
Which spaces are available: co-working desks, private offices, artists' studios, meeting rooms, gallery space and event spaces.
Perks: art exhibitions and performances, business workshops and discounts around Bristol for members.
Contact: https://www.hamilton-house.org/#contact-us-section
Located on King St, the converted warehouse is home to both dedicated and coworking members. Their spaces accommodate startups and freelancers, the tech and digital community. Offers dedicated, shared and virtual tariffs.
Where: 35 King St, Bristol, BS1 4DZ
Which spaces are available: Public Meeting Rooms, Members Meeting Rooms, Event Space, Collaboration Space and Phone Booths.
Perks: Seriously Good Coffee, Showers, Mailboxes, and a Library.
Contact: https://www.frameworkbristol.co.uk/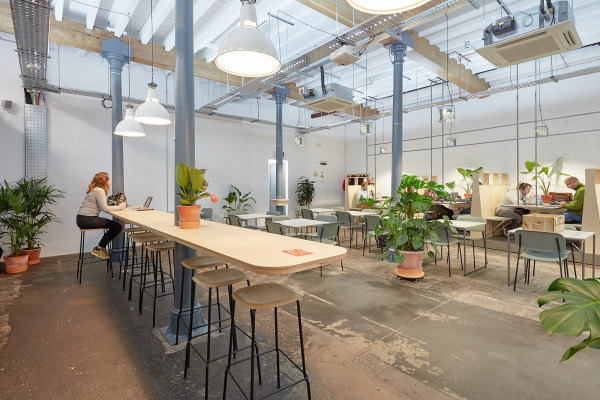 Boxworks is a unique workspace in the heart of Bristol's Temple Quarter. Twenty shipping containers are re-imagined into stylish, affordable private studios. Great for small teams, it is aimed at grow-on businesses in the technology, media and creative industries.
Where: Clock Tower Yard, Temple Gate, Bristol, BS1 6QH

Which spaces are available: Ground floor studio and first floor studio.

Perks: Business lounge, Showers, Bike shelter, Kitchen.
Contact: https://boxworks.co.uk/
Perfect for businesses looking for some new inspiration – Desk Lodge prides itself on being a welcoming space for all types of businesses. Flexible contracts also mean that the space is great for start-ups and those wanting to expand their business.
Where: 1 Temple Way, Bristol, BS2 0BY or DeskLodge House, Redcliffe Way, Bristol, BS1 6NL
Which spaces are available: hot-desking, private office, virtual office, fixed desk and meeting rooms.
Perks: weekly yoga, workshops, socials and flexible contracts.
Contact: https://desklodge.com/contact-us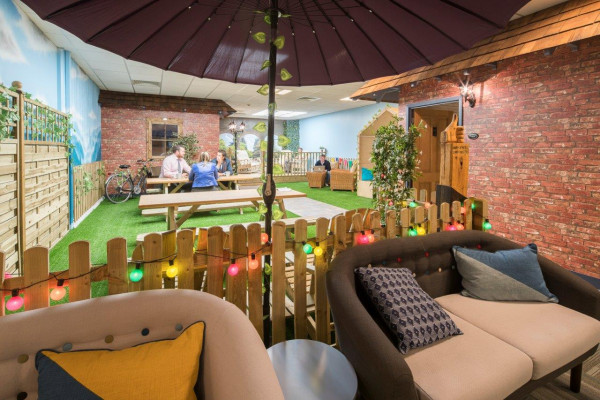 Located in the bustling centre of Bristol, Runway East is a lively workspace – fully serviced and with a fantastic rooftop terrace view to match, the Bristol Bridge branch of Runway East is great for start-ups right in the middle of the city. There is also a branch in Temple Meads, which is perfect for those hopping on a train into Bristol.
Where: 101 Victoria St, Redcliffe, Bristol, BS1 6PU or 1 Victoria St, Redcliffe, Bristol, BS1 6AA
Which spaces are available: meeting rooms, dedicated desks and hotdesking.
Perks: cake Wednesday, drinks on Fridays, roof terrace and excellent travel links.
Contact: https://runwayea.st/contact-us/
Located in the heart of Southville, Gather Round is a creative co-workspace that is highly functional, well designed and practical. Emphasis is placed on community so this is a great place for start ups or businesses looking to expand with lots of networking links. Offers 3 flexible monthly contracts.
Where: Cigar Factory, 127-131 Raleigh Rd, Southville, Bristol BS3 1QU
Which spaces are available: flexible workspace, including fixed and casual desks, private studios, event space, break out areas and room for quiet contemplation.
Perks: On site support from our Community Manager, Programme of free events and after work clubs, Private lockers for residents and Bike storage.
Contact: http://gather-round.co/membership/
Pollen Place is a series of colourful co-working studios for entrepreneurs, innovators, creative and tech freelancers and small businesses located in the heart of Bristol's artist quarter, Stokes Croft. The event space houses professional photography and green screen facilities.
Where: 15-17 Backfields Ln, St Paul's, Bristol BS2 8QW
Which spaces are available: Fixed desk, Meetings P/H, Meetings P/D, Private event space, and Studio Space.
Perks: Catering and presentation equipment, Mailbox, Printing facilities, Free Friday beers, 20% off at Poco tapas bar.
Contact: https://www.pollenplace.com/
Posted by Verity